Welcome to the Central Iowa EMS Directors website!  The Central Iowa EMS Directors Association is composed of EMS Directors and agency representatives from central Iowa.  The Association meets every other month to share ideas, unite as a single voice, and make decisions on issues affecting our agencies and communities. 
In September 2018, the association changed our bylaws to offer membership to all EMS agencies in Service Area 1. This includes 25 counties shown on the map below.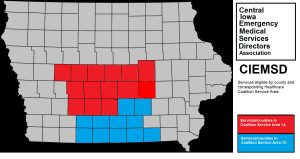 We encourage each EMS agency in the Service Area to have their service director or a representative attend the association meetings, either in person or by webinar.  The meetings are held on fourth Monday of odd numbered months.  The group meets at a different location each month. Meeting invitations are sent out including a Zoom weblink.  
If you would like more information about becoming involved with the CIEMSD Association, please contact us at membership@ciemsd.org.